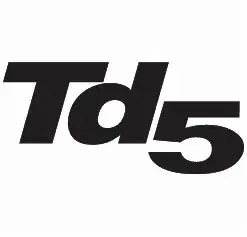 Specialists in the TD5 Engine
The TD5 engine can seem daunting with all the sensors and emissions equipment not seen on previous Land Rover engines, however help is at hand!  We have been working on these engines for many years.  We have the correct diagnostics systems to look at the TD5 engine data correcty, and we know from our experience many quirks of the TD5 engine that diagnostics simply will not pick up!
If you are having a problem with your TD5 engine then get in touch!
Our online store stocks many parts for your TD5 engine, from service filters to sensors we have all common items in stock.  If you need items in a hurry get in touch and we may be able to arrange evening or weekend parts collection!
All of the parts we stock are excellent quality and used in our own road and off-road vehicles.  Like many others we don't like doing a job twice either!
We can offer advice parts choice and fitting, or we can fit them for you too!
Many parts are in stock but we have access to 1000's of parts from our suppliers.
Diagnostics are at the heart of the TD5 engine.  We use several different systems for TD5 diagnostics as we have found some are better than others when looking at specific problems.  We currently use Lynx (legacy), Nanocom and Hawkeye diagnostics.
Since the Nanocom was introduced there are now lots of people advertising fault code reading, but diagnostics is much more than just looking for fault codes.  Watching for problem live data is often more use than fault codes.
Whatever the problem we are sure to get to the bottom of it!
Twinwoods 4×4  are able to carry out all servicing on your TD5 powered vehicle.
We recommend a service interval of 6,000 miles or once a year.  This is more frequent than the Land Rover intervals, but they were written 20 years ago and these engines are no spring chickens.
Regular maintenance is what these engines love, and they will reward you for it!  Many of the common problems we see are down to lack of regular checks and maintenance.
There are lots of TD5 engines out there pushing 250,000+ miles!
If you are looking at getting a bit more power out of your TD5 engine (or even a lot more power) then contact us to discuss a bespoke TD5 remap.
Whether you want a bit more grunt for towing, off road power or just all out power we can tailor a map to suit you and your vehicle and advise on any modifications required to get to the power level you are aiming for.
Whilst maps are advertised in "stages" for easy comparison no two maps are the same.  Speak to us about your requirements and we will be able to help you achieve your goals.

Above: a storm tuning vnt turbo installed on a 2000 defender 90
TD5 Engine Technical Info
84.5 x 89.0 mm
3.31 x 3.5 inches
Defender:
122 hp (91 kW) @ 4,850 rpm
Discovery 2:
136 hp (101 kW) @ 4,850 rpm
221 lb/ft (300 Nm) @ 1,950 rpm (manual transmission), 232 lb/ft (315 Nm) @ 1,950 rpm (automatic transmission)
Our selected brands - quality parts for your td5 engine
Connect with us on Social Media